League of Legends is developed by Riot Studio, it is one of the most popular games out there. The game is very addictive right from the beginning and once you get addicted to it you can play for hours and still don't get bored. The game has a lot of things to explore such as characters, leagues, skins and much more. You can unlock items using coins and collect them by playing the game while some of these items like Skins are rather paid, software like LoL Skin Mod allows us to get custom skins in the game. This is the topic of today's article before we get straight to the steps let's first talk a bit more about league of legends.
League of Legends is an online multiplayer battle arena game that was released back in 2009 and has over 100 Million monthly active users. The game was originally started as a 5 vs 5 where your team fights against other teams to destroy their bases. The game has developed a lot and now has solo or team modes.
They also added several game modes like Summoner's Rift, The Twisted Treeline, and Howling Abyss. You have to pass between lanes to reach the enemy base and each lane has several obstacles to protect the base and troops called minions. Killing the minions gives you gold and experience points which can be used to purchase more items in the shop like LoL Skins, Power up ability and champions.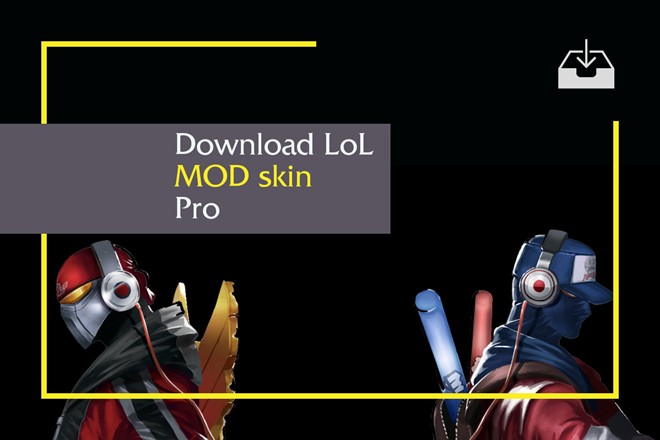 The champions are what makes the League of Legends a very interesting game. Just like Pokemon where we have a wide range of Pokemon, League of Legends has a lot of characters for you to pick in each game. There are over 100 different champions in the game and each one has its own unique style and ability. It can be a little confusing for the new players but to solve that problem champions are sorted into 6 different groups. They also have some common abilities and skills which makes them pretty interesting. The game has a lot of things to explore and if you keep talking about them, then the article will become 100 pages long. So now let's leave other things aside and focus on what you came here for.
There are already tons of articles on the web which promises to give you LoL Skin Mod but instead, they give you wrong information and some fake software which might affect your computer with malware. They might also give you an older version which might be working anymore Seeing this, we decided to make a step by step guide to download the latest working version of LoL Skin Mod. We have discussed everything in depth so you get a clear idea of how things work and also answered some of your commonly asked questions so stick to the end for better understanding.
What is LoL Skin Mod?
The different characters in the game are referred to as Champions and each champion has their own alternate appearance which we call Champion Skin. Every character and its skin are different they give your champion a unique visual effect and some additional characteristics such as different particle effects, voice-overs, and many sound effects. Most of the skins can be purchased from the game shop using the Riot Points. You have to buy Riot coins first and then spend them in the game to buy your favorite champion skin. The game is adding new skins periodically and people like to collect these skins and they can also trade them off for new skins. This is what makes the game so interesting.
If you have played the game already then you might know how expensive the skins are. The game will cost you around 30$ to 40$ to buy around 3000 to 4000 Riot Coins and you have to spend these coins to buy lol skins from the shop. The champion skins come in a few different categories like Deluxe, Superior, Epic, Legendary, Mythic, and Ultimate. The Deluxe is the cheapest one down the line it keeps getting expensive. A deluxe skin will cost you around 700 coins while an Ultimate skin will cost you around 3000 Riot Coins. So now you have a clear idea of how expensive these skins can be. The LoL Skin Mod is a free software which is also known as LoL Pro allows you to change the skins in League of Legends game for free.
The ability to add your own custom skin in the game makes people interested in the game, even more, when all of these are free and you don't have to pay a single penny. You can use this program anywhere in the world, it works for players from different regions like Europe, America, China, Russia, India, and Japan. The only limitation here is the program – LoL Skin Mod is only available for Windows operating system currently. So you can only use the program to change skin in the league of legends game while on Windows operating system. Maybe in the future, we might further support to make it work on the Mac operating system as well.
Features of LoL Skin Mod
The Software has tons of features to try out. We can't list every single one of them but you can check out some of the main highlights of the LoL Skin Mod software.
First of all, the software is completely free and you even have to spend a single penny for the software to get any of the free custom skin.
The software doesn't take a lot of space on your computer's hard drive. It is hardly 2 MB of download and < 10 MB after installation.
The LoL Skin Mod works in any country such as China, Russia, Japan, America, Brazil, Philippines, Europe and many more.
The software has many different modes such as Auto mod, Mod Skin team, and Mod Skin default enemy.
You can also use the software to preview the skin on your champion to see how it looks before buying it.
Download LoL Skin Mod Latest Working Version
Downloading LoL Skin Mod is very easy. You just have to click the link below and it will redirect you to the download site where the file is available. Click on the download button and the download will start automatically. Once you have downloaded and saved the file on your Windows computer you can then follow the below steps to install it and get custom skins for free. Downloading the software using our link is completely safe and it won't get you in any kind of trouble. So download LoL Skin Mod now and show off your new champions skins to your friends.
Download lol mod skin pro 2019 – Click Here
More information about the Lol Skin Mod Pro 2019
| | |
| --- | --- |
| File Name: | LoL Skin Mod Pro 2019 |
| Game Patch Version: | League of Legends 9.19 |
| Version: | Latest |
| Size: | 2 MB |
| Supported OS: | Windows 7/8/10 |
| Author: | Wooxy |
How to use Lol Skin Mod Pro
The installation process is very easy but the proper installation of the LoL Skin Mod software requires you to follow some basic steps. Some people don't know how to install the mod skin software so here are some steps, follow them properly and you will have it running on your computer in no time.
1. Starting off by assuming that you have already downloaded the software. If not then download it first.
2. The software comes in a compressed Zip file and you will need additional software like 7Zip or WinRar to extract it.
3. Download any of the above-listed programs and extract the software to your desired location. (Desktop Recommended)
4. Once you have extracted the file you will see a file named LOLPRO.exe now right-click on it and choose Run as Administrator option.
5. The app will launch and will ask you to log in to it. You can use the Garena Option for the login access. This will be easy and fast.
6. Once you are in the app you can preview your champion and pick any of the available skins for free. You can select the desired skin from the left column.
7. Now tick on the option which says Auto Mod Skin and click on the Activate Skin button.
8. That's it. You now have a cool new skin to show off to your friends without spending a bunch of money.
How to uninstall Lol Skin Mod
Didn't like the skin? wanna try something different? or just want to get rid of the skin. Uninstalling any skin is very simple and doesn't require any kind of hardware into it. You just have to follow some basic steps and you will get the skin removed instantly. The process is very similar to the way to install the skin. Let's see how you can do it.
1. Firstly, go open the software and find the skin you want to uninstall from your champion. You will see your champion icon and the skin name right next to it.
2. Once you find the skin you want to uninstall then click the checkbox located left to the champion icon and look at the right panel you will find a button to Uninstall the skin.
3. Click on the uninstall button and the skin will be removed from your champion.
4. The skin will not completely be removed from the game and it will stay there just in case you want to reinstall the skin again.
5. If you want to completely delete the skin from the software then make sure to select the skin and hit the delete button.
Will i get banned for using LoL Skin Mod?
This is one of the most asked questions in the Lol Community. Many people are curious will they get banned for using the skin and lose their account. The is still an answered question because millions of people are already using the software and only a few of them have been banned. The reason behind the bans clearly says that they have violated some rules and indicates that it has nothing to do with the LoL skin mod. The Mod only changes some visual effects on the champions which don't seem to get you in any trouble. The developers behind the game have released their official statement too regarding this issue.
Here's what the official statement says – "In our case, we've made a decision that custom skins/splashes aren't necessarily hurting the business. Our business is in making our players happy – the ability to custom stuff is likely what keeps certain people interested in our game, and acts as a force multiplier for other people. From that perspective, banning people is incredibly stupid. We're forcing people out of our game, and lessening the experience of other players, for no real clear benefit. source- Riot Games". so just go and enjoy the game with amazing skins."
Final Words
So there you have it. How to download the LoL Skin Mod and methods to safely install free skins in your League of Legends game. We would like to tell you that there are a lot of Mods out there offering free skins but we clearly advise you to take caution before installing any of them from an unknown source. These Mods might get you banned and you definitely don't want that. We guarantee you that the software we provide is completely safe to use.
In the end, we would like to let you know that using any third party application is to modify files is always against the terms and conditions. So use them at your own risk. If you still have any doubts regarding the use of LoL Skin Mod software then kindly let us know and we will try our best to help you out If you're interested in write for us, Feel Free Contact Us. This software is helpful for all League of Legends players so share it with your friends and family who play the game and help them get free skins as well.