Lite OS and HUAWEI Health
Lite OS is a simple wearable operating system. On the home page of the watch, you can swipe up to view notifications. You can click on them to expand them. You can swipe down on the home screen to display quick settings. These settings include "Do Not Disturb", "Screen On", "Find My Phone", "Alarm Clock Shortcut", and "Settings Menu Shortcut". Users can also see the Bluetooth connection icon, date and battery indicator there.
You can swipe in a horizontal way on the watch GS Pro's home screen. Then, you will see screens special for heart rate monitoring, pressure level tracking, weather, music playback, and activity dashboard. There are three circles on the dashboard. They represent the number of steps, tracked exercise time, and time of day activity.
Users can rearrange the home screen of Lite OS or add other settings. The top right button will launch the user's application list when you press on the main dial. If you press other places in the Lite OS interface, it will return to the Home screen. You can achieve backward operation by swiping inward from the left side of the screen. Users can set the bottom button to any application they prefer. The default setting is activity tracking.
The application on the HONOR Watch GS Pro will provide more detailed information than the home screen. For example, the dashboard displays the motion logging mentioned above. Users can scroll up to see more detailed information. They include calories burned, distance covered, and elevation change. They also show the number of steps per day, exercise time, and weekly activity time.
HUAWEI Health provides a deeper level of detail. Users can see their workout data, sleep habits, stress levels, and blood oxygen saturation levels. At the same time, they can trace their body weight, heart rate and calories burned per hour, day, week or month.
You can click on the edit button at the bottom of the home screen and enable it. Then, you can add a menstrual cycle calendar to your HUAWEI Health dashboard. It may not be as advanced as other wearable applications. But, it still has enough data to cover the basic applications.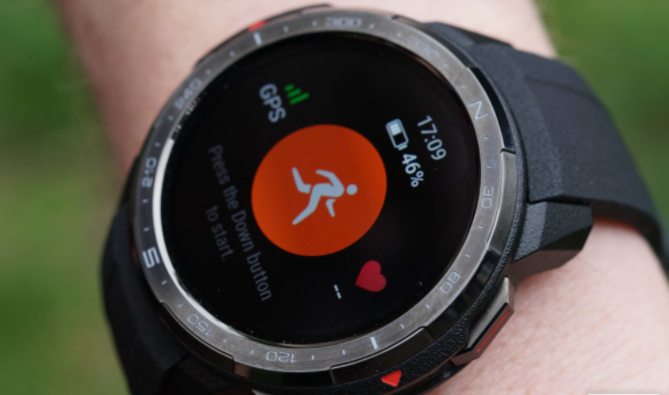 Health Tracing
Both HUAWEI and HONOR smartwatches run the same Lite OS. Thus, HONOR SmartWatch GS Pro has diverse activity tracing options.
It offers 100 modes. They cover a variety of running, walking, swimming and cycling modes. They also include triathlon, strength, skiing, rowing and elliptical. There are 13 different running courses for you. Of course, when you need a little extra pressure.
Other Functions
In addition to heart rate tracing and fitness, GS Pro offers sleep tracing. This is pretty good. User may don't know what to do with these insights about sleep. But, such information are interesting. User may want to have best night rest conditions. In this case, they are of great value.
Overall, HONOR Watch GS Pro has all-around functions. HONOR Watch GS Pro is ideal for outdoor activities and health monitoring.